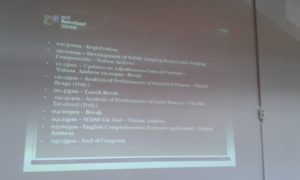 DATE 03-07-2017
LOCATION The congress will be held at MultiEventi Sport Domus, Serravalle – Republic of San Marino
Via Rancaglia 30
47899 Serravalle
Repubblica di San Marino
Contact: Leonardo Orazi – tel. +39 320 4332627 – e-mail: congress@fesdas.net
PROVISIONAL PROGRAM
09:30am – Check In
10:00am – Development of WDSF Judging System and Judging components – Natasa Ambroz

11:15am – Updates on Adjudicators Code of Conduct

– Natasa Ambroz




12:00pm – Break

12:15pm – Analyzation of Performances of Standard Dances – Pietro Braga


13:45pm – Lunch Break

14:30pm –

Analyzation of Performances of

Latin Dances – Claudia Tavalazzi


16:00pm – Break

16:15pm

–

WDSF GK Test – Natasa Ambroz

17:00pm – English Comprehension Test(new applicants)-

Natasa Ambroz




17:15pm – End of Congress
WHO CAN ATTEND
All the holders of a valid WDSF adjudicator's license and all interested to obtain a new one.
CONDITION FOR A NEW LICENSE
Over 18 years of age.

Holder of an National Adjudicator License for a minimum of 2 years with qualification to judge National Championships and International Competitions.

Must have passed an exam in the Technique of Standard and Latin American dances (WDSF Syllabus)

Must have an active knowledge of the English Language.

With the application form you have to send in the following documents, Curriculum Vitae (CV), that has to include

Your formal education.

Your dance experience as competitor, trainer, adjudicator, lecturer,etc.

Your dance education (examinations, seminars, congresses)

A copy of your Technical Exam papers for Latin and Standard, where it is clearly visible who is the examining organization and who was the examiner.
The new candidates will not get the WDSF Adjudicators License automatically, but after having successfully* completed two Congresses and after the evaluation of their Curriculum Vitae.
ENTRY
Entry must be sent through the WDSF member to WDSF by filling the application form and send it to WDSF ( office@wdsf.org ) and in CC to San Marino DanceSport Federation( congress@fesdas.net ).
It is possible to reserve the lunch in the congress centre at the special price. Contact organizers at congress@fesdas.net.
---
* Successfuly completing a congress means that you have paid your fee, you have attended the whole congress and successfuly passed the WDSF English language proficiency test.